The Kentucky Derby is Decadent and Depraved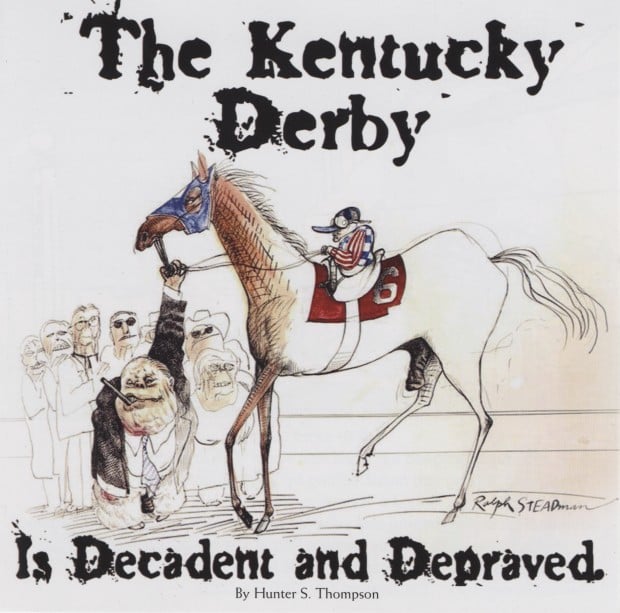 We're in the FINAL COUNTDOWN before Derby post time, and because I'm a nerd, I want to post about one of my favorite essays of all time (I'm getting my Master's in Professional Writing, so yes, I'm the kind of girl who has favorite essays). Kentuckians besides me should love it too, though."The Kentucky Derby is Decadent and Depraved" was a landmark essay by Louisville native and the original gonzo journalist* Hunter S. Thompson, and it was contrived in an unconventional manner that would become a hallmark feature of Thompson's work.Instead of researching an event, going to said event, staying sober enough to take helpful notes, and later writing, revising, and finally submitting a piece for publication- Thompson found himself suddenly facing a deadline and began frantically ripping pieces of paper from his notebook, numbering them at random, and submitted it to Scanlon's Monthly. It was an unconventional approach- Thompson described its creation as "falling down an elevator shaft and landing in a pool of mermaids"- but it worked.
The essay doesn't give a traditional overview of the Kentucky Derby's history, traditions, or even really mention the horses that were in that 1970 Derby. Instead, Thompson writes what he knows; he gives the reader a look into his often manic, always entertaining lifestyle and the Bacchanalian celebrations surrounding the Kentucky Derby in both the infield and the grandstands. It's entertaining because of its extreme portrayal of Derby revelers, but in reading it, you can't help but nod your head and think Yup, sounds about right.
Apparently the officials in charge of the Kentucky Derby have no qualms about Thompson's lewd descriptions, because you can read the essay in its entirety on the Kentucky Derby's official websitehere. For now, I'll leave you with an excerpt and a sincere plead for you to read the whole thing- either sober, so you can understand it, or in a more inebriated state, which is probably what Thompson would have preferred.
Later Friday afternoon, we went out on the balcony of the press box and I tried to describe the difference between what we were seeing today and what would be happening tomorrow. This was the first time I'd been to a Derby in ten years, but before that, when I lived in Louisville, I used to go every year. Now, looking down from the press box, I pointed to the huge grassy meadow enclosed by the track. "That whole thing," I said, "will be jammed with people; fifty thousand or so, and most of them staggering drunk. It's a fantastic scene–thousands of people fainting, crying, copulating, trampling each other and fighting with broken whiskey bottles. We'll have to spend some time out there, but it's hard to move around, too many bodies."

"Is it safe out there?" Will we ever come back?"

"Sure," I said. "We'll just have to be careful not to step on anybody's stomach and start a fight." I shrugged. "Hell, this clubhouse scene right below us will be almost as bad as the infield. Thousands of raving, stumbling drunks, getting angrier and angrier as they lose more and more money. By midafternoon they'll be guzzling mint juleps with both hands and vomitting on each other between races. The whole place will be jammed with bodies, shoulder to shoulder. It's hard to move around. The aisles will be slick with vomit; people falling down and grabbing at your legs to keep from being stomped. Drunks pissing on themselves in the betting lines. Dropping handfuls of money and fighting to stoop over and pick it up."

He looked so nervous that I laughed. "I'm just kidding," I said. "Don't worry. At the first hint of trouble I'll start pumping this 'Chemical Billy' into the crowd."
My Twitter is decadent and depraved. @KristenGeilKSR
*If you don't quite get what gonzo journalism is, don't feel stupid because it's a rally vague genre that's hard to define until you've read enough of it- basically, you know it when you see it. Gonzo journalism usually takes place in the first person narrative and emphasizes style and shock value over hard facts and objectivity. It's raw, unpolished, and gives no f**** about whether or not anything in the piece is actually accurate. It's kind of akin to a long, rambling story told by your alcoholic uncle at the Thanksgiving dinner table- at the end of it, you think "Damn, what a good story," but you can't be certain that he actually did shoot a man in Reno just to watch him die. But then again…